NastPad has some great new features to check out and is available for download now!
What's new: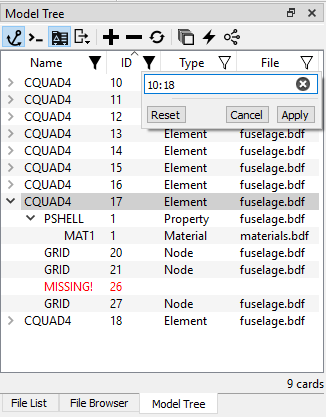 Cross-referencing model card IDs is now available via the new 'Cross-reference model' tool. This can be used to check for missing, duplicate and/or orphaned cards within a model. Not only can it prevent FATAL errors in Nastran, but it can also be used to find passive modelling errors that Nastran will not report.
Extract data from text files (e.g. F06 and PCH) using the new 'Parse Data from Files' tool. Results data can be output to CSV files, or directly to a database. The tool uses one or more regular expressions to parse the data, and can be easily modified to suit individual needs.
The Model tree has a new 'Card mode' (as pictured) that shows a list of all cards in the model, and can be expanded to show referenced cards. The list can be sorted and filtered, and double-clicking on a card item will jump to the card location in the file.
The Model tree has a new Export menu that can be used to export the tree/file/card data to tab or comma delimited (CSV) format. It can also export formatted cards, and convert to a different format (e.g. long to short) if desired.
The 'Modify Files' tool now has an option to convert Nastran card format (fixed/free and short/long) for various scopes.
Improvements to Search and other miscellaneous enhancements.